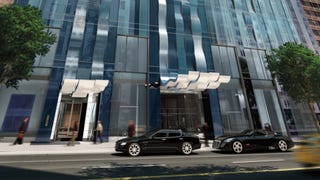 CNBC recently compiled a list of the most expensive apartments in New York City and look whose car is parked outside of One57 and its $115,000,000 penthouse. Yes, it's the $8 million one-of-one Maybach Exelero perhaps owned by rapper/record exec Birdman.
Earlier this week rap impresario, luxury goods enthusiast and former prison guard Rick Ross dropped his fifth studio album, God Forgives, I Don't.
The "Mozart Effect" is a term used by Alfred Tomatis for his belief listening to Mozart's melodies can make you smarter. Ford's designers apparently took this approach, with a modern twist, while designing the 2010 Ford Taurus.
It's dark, it appears to be cold, and two men are in a car and hungry. Naturally, the obvious thing to do would be to freestyle in their order at the McDonald's drive-thru. Unfortunately, the girl with the headset interrupts their flow with a mundane question about how they'd like it cooked.
Once upon a Time, millions of Americans digested the Newsweek with one of two general interest magazines. When it came to pop culture, Time and Newsweek spoke with one voice. And earned a reputation for being cursed; the moment an artist appeared on their cover(s), their cultural relevance was over. It s the same deal…