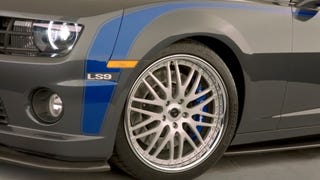 The Hennessey HPE700 has the heart of a ZR1 whacked-out on automotive meth and producing an ear-splitting 724 HP and 741 lb-ft of torque. Seriously, check out the video, it's like the banshee wail of a thousand PBR-soaked party-goers.
Hennessey's only producing 24 HPE700 Camaros for $109,000, but with 705 HP and 717 lb-ft of tire melting torque on tap, we could let go of some of the kiddies college fund. Don't judge. You're thinking the same thing.
Last week brought the first test of Hennessey's newest powerhouse, the HPE550 Camaro. This week brings enough new pics and details to make even the most gentlemanly of men hoot and holler.
The power hungry folks at Hennessey Motorsport in Houston just completed their first swap of a ZR1-sourced LS9 into a 2010 Camaro, creating the HPE700 or what Chevy should call the Camaro Z28.
Houston-based Hennessey Motorsport's new supercharged, 562 HP 2010 HPE550 Camaro gets wrung out in this first test proving that the Camaro is no longer just a redneck's play thing and more a precisely-guided patriot missile.
Assuming the 2010 Chevy Camaro ever makes it to production, Hennessey is ready with a stonkin' 705 HP supercharged upgrade kit ready to hoover up $109,000 of your dollars.