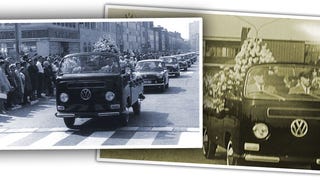 Chances are that, for most of us, if there's any identifiable bits of us left after that final racecar/hovercraft/threshing machine accident, our last trip on Earth will be in a hearse of some sort. But why get stuck in some boring old black wagon with landau bars? We should pick what we want now. So let's do it!
We first told you about the discovery of Argentina's beautiful, wooden-bodied Cadlliac hearses back in June. An older version has emerged from former duties as the official shuttle of the River Styx Tollway, and it's looking for a new home.
Melvin Baker, a 79-year-old digger who loved his backhoe, had his dying wish fulfilled when his JCB backhoe was used to carry his coffin from the family home to the church. Ironically, he was cremated. [SWNS]
On April 18, 1955, Albert Einstein passed away. He was carried to his grave in a Cadillac the size of a small planet. Rest in peace, old friend. Bohr and Heisenberg probably left their funerals in a Ford. [LIFE]
Polish President Lech Kaczynski and 95 others were killed in a plane crash on April 10th. Yesterday, over 100,000 mourners turned out for his funeral in Krakow where a Maserati Quattroporte and Hummer H1 served as hearses.