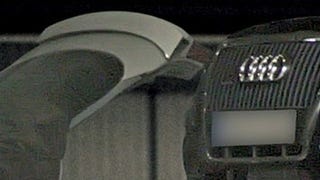 All good things must end; in this case Audi's nearly perfect range of sedans and wagons. Now, they're following arch-rival BMW's bizarre pursuit of fat hatchbacks with the 2011 Audi A7. Why, God, why? [AutoExpress]
The Lexus LF-Ch hybrid concept, set for a Frankfurt Motor Show unveiling, is sporting an angry snout in this first frontal view, indicating it's ready to take on Europe's finest premium compact competitors.
The Lexus LF-Ch concept will debut at the Frankfurt Motor Show and will lead to a production FWD, 5-door hatchback designed to rival the Audi A3 and BMW 1-Series.
They say you haven't become a true "petrolhead" until you've owned an Alfa Romeo. To meet that requirement in America, that requires scavenging through used car ads and, subsequently, junkyards. However, for the places in the world that actually get new Alfas, owning one of the Italian beauties will be a bit more…
You know you wanted more diesel goodness, well, this is it. As part of the Mercedes march upon Geneva, they've revealed the latest version of the "Sports Coupé with fun factor," the 2009 CLC 220 CDI. Essentially, this is to the C-Class what the CLK is to the E-Class. Which is to say it's a bit confused because while…
Hyundai's been planning an exclusive press presentation of the European developed i30 compact hatch at the Four Seasons Hotel in Geneva one day before the Geneva Show media days begin. Well now the swanky soiree may be a little less swank, as a number of fan sites around the net seem to have prematurely shot their…
Sorry about the long absence today, but the ubiquitous Internet, from our experience here in Paris, is more of a nice dream (like air conditioning). But we're back, and playing around with the new site. Did we mention we have a new gallery system? Let's try it out with Volkswagen's Iroc concept, which went live today…

Enterprising spy photog Chris Doane, creator of the moniker "Sloppy Jalopy" (don't ask) snagged some pics of the as-yet unreleased hatchback brother to the already released 2007 Chevy Aveo sedan. The "hot-hatch" shows off a much larger, more aggressive Chevrolet bisected fascia similar to what we've seen in recent…