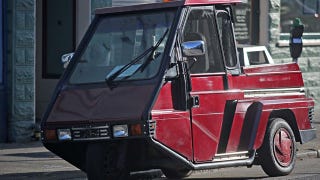 Parking in San Francisco is a musical chairs grudge match. I'm surprise there's not more bloodshed. Dennis Leary (not that one) is an SF-based chef who delivers everything from homemade bread to kale chips (natch) to restaurants around The City, and his pair of meter maid-mobiles are the perfect battle weapon.
In 2010, a gorilla escaped from its penn at the Dallas Zoo and wandered about for around an hour. It didn't hurt anyone or anything, so we all shared a hearty laugh and went on living our lives.
Ever upgrade your computer with new system software? Has it always worked perfectly, every time? Didn't think so. Would you like that same experience brought to your car — only with the added nervousness that comes from having it do it automatically without your input? You're in luck if you buy a new Mercedes-Benz!
Okay, here's what's happened: You had to get out of town, fast. Maybe you just need a break, maybe you need to clear out while things blows over. Who knows. Point is, you're in your car, heading out onto a nice long stretch of nothing, when it hits you: You forgot your phone car charger. You have your dock/data…
Spotted near that ultimate source of Christmas cheer, Washington DC, by reader Bailey, this hacked road sign brings a message likely to disturb more commuters than even zombie apocalypse warnings. If Christmas doesn't come from a store then how do you show your car that you love it?
We told you not to hack electronic road signs. Now you also shouldn't hack electronic crosswalk indicators to make them send hilarious images of a single-fingered salute to pedestrians using a simple hack suggested by the Spokane Streets Department.
Ford is warning web users to avoid becoming victim of a Black Hat Search Engine Optimization attack targeting popular searches for their products. The translation for what that means below.