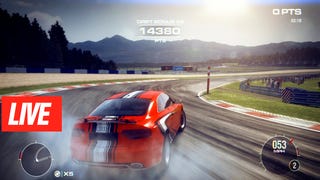 Sim racing games are fun for few, but the community at large finds them boring. Arcade racing games are fun, but they're a bit too fake. So what if there was a game that combined the two? That's what GRID 2 wants to do. It's coming out next week, and the developers are here now to answer all your questions. Fire away!
Everything is social these days. If you don't tweet and update your Facebook status every 40 minutes, you are an outcast and a pariah. If you don't Instagram your meals, your friends will pretend not to know you. And if you don't develop a social gaming experience, nobody will buy your latest game. And that's why Grid…
For as long as I can remember, racing games have either been a simulation or an arcade experience, but rarely have the two intermingled. But the arrival of games like Grid and Forza Horizon have merged those two categories into an interesting grey area. And now we have Grid 2, which will be making that grey area even…
The McLaren MP4-12C is one of our very favorite cars. It's a technological tour de FAP that's also amazing to drive. Chris Harris's over-steery antics makes him one of our very favorite drivers.