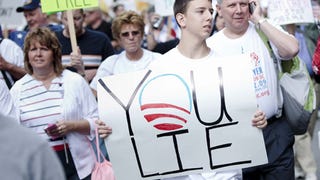 A study by the obviously pro-government National Taxpayers Union claims each new GM vehicle costs the average taxpayer $12,200. Their bizarre assumptions and our analysis below.
CNBC's Erin Burnett calls GM "zombie" on Today Show. [CNBC]
The CEOs of the not-so-Big Three made it to DC for committee hearings beginning today at 10:00 AM. According to Bloomberg's sources, GM and Chrysler execs are considering a pre-arranged bankruptcy (which we've already said is a good thing) as a last-resort of getting a multibillion-dollar government loan.