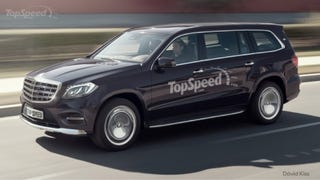 Mustache-Benz boss Dr. Dieter Zetsche has been quoted saying a Mercedes-Maybach SUV is "most likely!" Logic dictates that would basically be a GL, soon to be rebadged as GLS, with a bit of a body stretch and a private-jet interior. Subtle, quick, and decadently comfortable.
We just saw the 2013 GL at the New York Auto Show, but it looks like Mercedes prematurely leaked three pictures of the upcoming AMG version before anyone was supposed to see it.
Need to tow a horse trailer or vintage racer or a fair-sized boat? Think a Suburban is utterly déclassé? Mercedes has you covered, good sir! The refreshed 2013 GL-Class supersized SUV bowed today, offering exactly zero surprises and likely causing ripples of civilized excitement among upper middle class and lower…
Welcome to Down On The Street, where we admire old vehicles found parked on the streets of the Island That Rust Forgot: Alameda, California. In all this time, we've seen just one DOTS Subaru.
Not known for subtlety, the boys and girls at Brabus have taken the standard GL-Class Mercedes Benz, which was already a decently mean looking ride, and have touched it up in a way that reminds us why the French built the Maginot Line. The first thing you notice is the giganto-style aesthetic, which includes wider…
Ah, the wonders of CGI — as this Mercedes-Benz ad by Merkley & Partners shows, it can do just about anything. CGI can show a Benz GL SUV hit by a one-ton battering ram — and not be scratched. CGI can show a Benz GL SUV swallow an engineer alive while unpacking the cavernous trunk. CGI can show a Benz GL SUV towing…