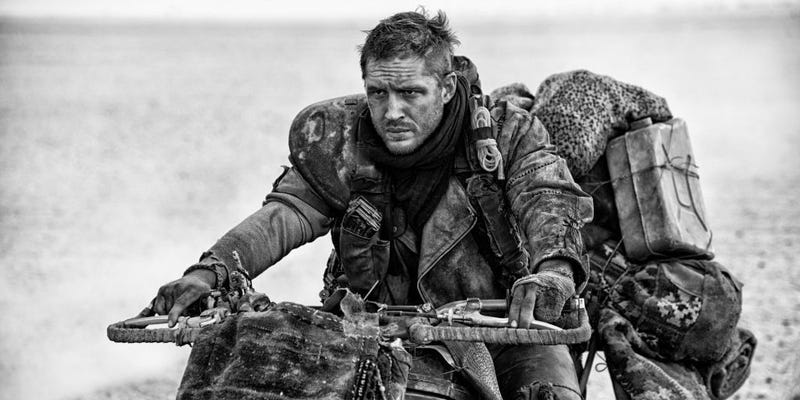 Mad Max: Fury Road director George Miller probably didn't realize the avalanche of discussion he set off when he first mentioned a black-and-white version of his award-winning film. We've chronicled the mystery behind this version of the film in the past, but now it seems like it's actually happening.
Even before Mad Max: Fury Road released (and promptly blew our socks off), Director George Miller was insistent that the film would best be viewed in black and white. After that version was sadly absent from the home release, we might be getting something even better: a chance to see the B&W version in theaters.
One of the most striking things about Mad Max: Fury Road is the insane palette, full of rich, bright primary colors. But director George Miller said if he'd had his way, the movie would have been in black and white. Now you can see what that would look like.
You don't realize just how crappy most action movies are, until you see something like Mad Max: Fury Road — a movie in which there are no "action scenes" because the action pretty much never stops. And the film's constant sense of violent motion is in the service of incredible imagery and transcendant moments.
1. I quit smoking more than four years ago, but nothing—not a night full of drinks, not a table full of smokers, not a gasoline IV—has made me want a cigarette more than Mad Max: Fury Road did. You leave the theater still shaking, everything still pumping and throbbing, a treadmill stopping on a dime and sending you…

In a move uncharacteristic of the franchise, yesterday's new Mad Max teaser is full of cars, explosions, and hardened stares.
A new batch of deranged images from the set of Mad Max: Fury Road reveal a fleet of killing machines, wacky skin mask fashion, and potential nemeses. We're not sure, but we do know that this Mad Max is going to be a lot different from its predecessors, just in terms of special effects and crazy new characters alone. …
After we revealed yesterday Mad Max 4: Fury Road is green-lit, director George Miller's provided a sneak-peak at two cars from the new movie. One is the Max's iconic supercharged Interceptor, the other, a monster-motored hot-rod pickup.