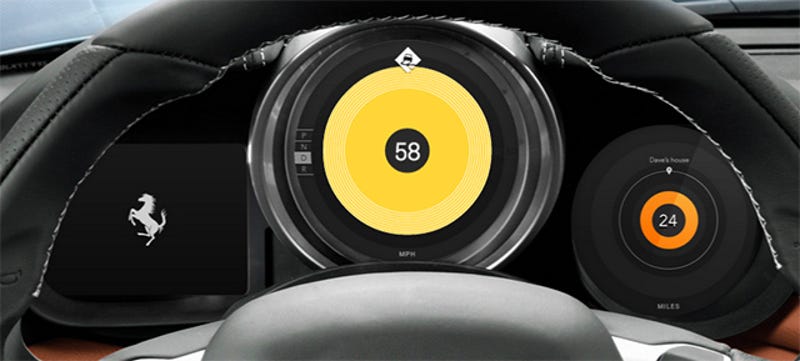 Screens are slowly usurping traditional gauges, but automakers still insist on using analog approximations despite the freedom of a digital canvas. The designers at Ustwo took a hard look at exactly what drivers need and came up with a solution, and it's brilliant, if not exactly sexy.
I know they're not to everyone's tastes, but I'm starting to like this trend towards these digital instrument panels being installed in everything from a Chevy Spark to basically the whole fleet of Jaguar and Land Rover products. Some of these are well done and are able to showcase a lot of information now that…
When I stopped by my local self-service yard to photograph the Crusher-bound '49 Ford on Friday, I discovered that I'd walked into Half Price Weekend. Might as well do some shopping!
Once I saw a tachometer with a "$$$$" marker at the redline and another driven by a leather belt coming off the camshaft, I decided I'd start shooting some instrument panels at the Monterey Historics. Italy, Germany, Japan, and Detroit are all represented in the gallery below, but Joe Lucas ( the Prince Of Darkness)…
Whether you're a fan of digital gauges or not, you no doubt remember their prevalence during the glorious 1980s. Everything from the Dodge Daytona Shelby Z to the Nissan 300ZX Turbo to the Chevy C4 Corvette complemented the era's best futuristic vehicle design with digital gauges. Motive Magazine highlighted some of…
Are you that guy? You know, the guy with big, gaudy and ugly gauges all over the dash and door molding? I don't judge you because the fact that you have so many gauges, sometimes people need to actively monitor other systems not included in the stock gauges, I just judge you because the placement of said gauges. Roush…