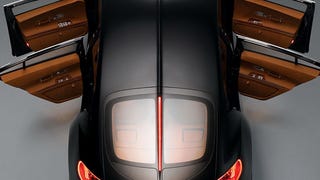 Bugatti's staying tight-lipped about the Galibier, refusing to confirm if it's even destined for production. What we do know is it's fitted with a supercharged version of the 8.0-liter W16 and looks hot in black.
The Bugatti Galibier debuted in Los Angeles last week before a crowd of people wealthy enough to care. The photos finally reveal proportions of the front-mounted W16 super saloon concept. Also, the photographer managed to snag some "baby" Bugatti "news."
According to 4WheelsNews, the eight-piped vehicle teased by Bugatti back in July is a four-door coupe unveiled at a private event yesterday named the Bugatti Galibier. Well, at least the name's got some history. UPDATE: Photos!