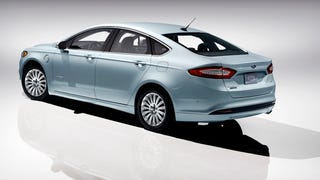 The 2013 Ford Fusion is the best-looking mid-size sedan to come along in a generation. Personally, we wouldn't buy the hybrid version (the smaller fourbanger version will get a six-speed and 37 MPG), but if you had to buy a hybrid the now 2.0-liter-equipped Fusion blew out expectations and offers 47 MPG in the city and…
Email scammers are attempting to "phish" for personal information by claiming, erroneously, to be selling the 2010 Ford Fusion Hybrid for $15,500 through a special government program. Don't send them your information.
NASCAR star Carl Edwards, using eco-driving tips, drove this 2010 Ford Fusion hybrid non-stop 1,445.7 miles on one tank of gas. Over 69 hours he averaged 81.5 MPG and annoyed 5,180 fellow drivers.
The 2010 Ford Fusion Hybrid is officially America's most fuel efficient mid-size, with an EPA rating of 41/36 MPG city/highway, besting the Toyota Camry hybrid by 8 MPG in city, 2 MPG in highway driving.
Yesterday, Jalopnik achieved a fuel economy rating of 43.8 MPG in a road test of the new Ford Fusion hybrid, out-greening Ford's engineers and our furry little hype-filled friend from AutoBlogGreen.
The 2010 Ford Fusion, for those who admired its sharp Gillette looks, will start at $19,270 for the base S model with the 2.5-liter four-cylinder engine matched with a six-speed manual transmission, just $135 more than the base 2009 Fusion, which isn't as powerful or quite as good looking as the new Fusion. For those…
That newly unveiled 2010 Ford Fusion looks pretty slick and all, but today we got a chance to sit down in the Fusion Hybrid — complete with black and white jelly bean camouflage — and play around with the new twin-LCD SmartGauge display. We'll let Ford Researcher Jeff Greenberg, a Senior Technical Leader at Ford walk…
Our best guesses about what the 2010 Mercury Milan and 2010 Ford Fusion would look like have been all-but-confirmed by a set of spy photos Automobile has just released. The shots show the twin of the 2010 Ford Fusion Hybrid running around without a stitch of camouflage. Though not as dramatic as we'd hoped, it is…