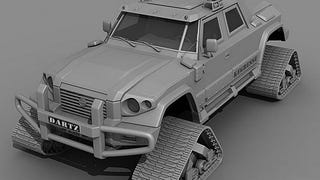 Remember the Russian SUV-maker whose whale-penis upholstery gave Pam Anderson the angry shivers? They're back with a prototype go-anywhere luxo-truck. It's only a 3D model, so Russian oil barons will have to cool their heels... in Siberia.
BBC News turned its video cameras on Russia's homegrown supercar, the Marussia B2, as it rumbled around the company's ex-Soviet factory in northern Moscow. Marussia Motors just bought a controlling stake in Virgin Racing too, so you know it's well-endowed.
There's an old Russian saying, "There are no roads in Russia, only directions." Keep that in mind as you examine this SUVified Mercedes 190E. Sure it can make it over the Urals, but we're the ones who need the vodka.