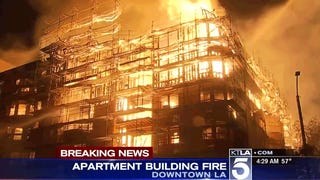 A still-under construction luxury apartment complex in LA by the intersection of the 101 and 110 freeways is burning in Los Angeles, damaging surrounding buildings and temporarily closing down freeways. The full-block complex, called the DaVinci, is still smoldering, but firefighters have it under control.
The Southland's freeways hardly inspire optimism anymore. Glance at the shoulder of a slow-moving freeway and among the weeds you'll see shards of plastic and twisted metal—the accumulated detritus of a dozen high-speed crashes. They may (occasionally) be convenient, but whether it's their shabby appearance, the way…
The people who make electric scooters like to advertise how they can take their elderly riders anywhere. There's probably a fine-print exemption to "anywhere" that includes the shoulders of busy freeways. This owner did not read the fine print.
Oh, the joys of the World Wide Web. CTE sent us a link to a photo of guys laying astroturf on a median in Texas somewhere around 1971. From there, we ended up finding TexasFreeway.com, which touts itself as "Your public library for Texas freeway history." Having lived most of our time in California, the freeways in…
Interesting things about I-10 in West Texas: Exit 420 is Baker Road. The Super 8 in Ozona — a town in which we were vaguely threatened by inbred, meth-addled freaks while driving the So-Cal Speed Shop's Plymouth Prowler to Houston — has the nicest Super 8 Motel the world may ever see. And well, that's about it.…