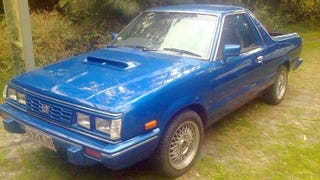 Fellow Subaru admirers, I'm drooling. Some guy thought that it would be a good idea — and it is — to drop one of Subaru's turbocharged WRX STI engines into this little ol' BRAT. With that kind of power, there won't be many Kangaroos who can outrun it.
The original Frankenstein car driven by David Carradine in the movie "Death Race 2000" can be bought for $13,998. Just think how much scarier that film could have been if they known about texting. Hat tip to FodderTheSane! [Hemmings]
American actor David Carradine has been found dead in a Bangkok, Thailand hotel. Frankenstein the legend was apparently not Frankenstein the indestructible.
UPDATE:We've now got the first Death Race trailer! Almost a year ago, I had the opportunity to head out to Montreal and go behind the scenes of the new re-visioned movie "Death Race" starring Jason Statham, Tyrese Gibson, Ian McShane and yes, Joan Allen. Whereas the names of the characters they play may be the same,…
So Universal's creating a re-make of the classic schlock-camp 70's futuregasm Death Race 2000, starring the always-willing-to-Transport Jason Statham and now they've released the first official screen shot of the action star in his broke n' busted but rebuilt whip. We've included the official synopsis below the jump…