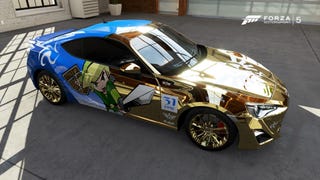 While the reaction to the improved graphics and control in the Xbox One's next-gen racing simulator has been enthusiastic, players have been grousing almost universally about one thing: pervasive microtransactions. Dev studio Turn 10 has heard the feedback and has just announced a new round of changes to …
Some say he's The Stig. But he's not. He's The Stig's digital cousin. And he's coming to Forza Motorsport 5 on XBOX One in November.
Just the other day, we received a big old poster from the fine folks over at Microsoft with a picture of a lovely McLaren P1. There was no explanation, other than a small note on the back that we'll see "our frame in motion on September 19th." Now we know what's up.
The launch of the Xbox One in November brings with it Forza Motorsports 5, and as nice as the new game pad's haptic feedback is, racing fans are going to need something meatier. Something with force feedback and foot pedals and genuine suede leather. Oh hi there, Mad Catz Force Feedback Racing Wheel for the Xbox One.