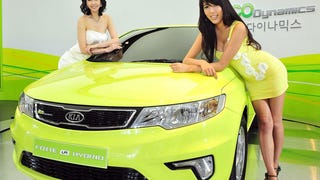 The Kia Forte LPI Hybrid is the brand's first production hybrid, the first use of lithium polymer batteries in a hybrid, and the first vehicle in Kia's new Eco-Dynamics sub-brand.
This morning, we brought you news of Kia's newest entry in the compact market. This afternoon, Kia revealed its all-new 2010 Kia Forte econobox warrior.
The 2010 Kia Forte, a replacement for the dull Spectra, is one the first salvos in Kia's battle to enhance its image. Perhaps the 173 HP, six-speed manual-equipped SX will find its target.
We've already shown you the surprisingly attractive 2009 Kia Forte and now, thanks to Kia-World, we have a treasure-trove of pictures as well as some more information on the Spectra replacement. According the all-things-Kia site, the new Forte will come with small gas and diesel engine options when it debuts in Korea,…
Here it is folks. Apparently the speculation's now over and we've no more need for silly teaser shots — here's the official press shots of the new replacement for the Kia Spectra/Cerato, the 2009 Kia Forte sedan. Our snap judgement? It's not too shabby looking. In fact, in comparison to the Spectra, it's downright…
Kia's very quietly revealed what appear to be photos of their upcoming Spectra-replacement, the Kia Forte. The new shots continue to show the Korean automaker's moving at a definitively un-Kia-like high speed towards a new, bolder design direction. We've seen it indicated already by the Kia Soul, Kia Koup and now the…