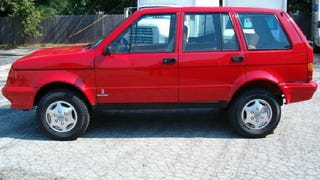 La Forza del Destino is an opera by Giuseppe Verdi that features love, death, betrayal. . . and gypsies! Less dramatic is today's Nice Price or Crack Pipe Laforza, but will its price have you wishing the fat lady would sing?
In Kafka's Metamorphosis a man turns into a gigantic cockroach overnight. Today's Nice Price or Crack Pipe MG ZT changed from front wheel drive to rear - and grew a V8 - but does it carry a price that will bug you?
"For my 16th birthday my dad and I got matching tattoos. Being ford fans all of our lives we designed a Ford tattoo." Way to one-up those PBR-swilling pansies from the Fiesta Movement. [Flickr]
Remember the 6.2-liter V8 we showed you earlier today? Ford may not be marketing this engine as the Boss, but trust us, it's a Boss engine. Here's the mother of all Easter Eggs to prove it.
What's a recipe for success? Take one helping of traditional British sports car, and add five liters of American V8 — shake well while serving. Today, Nice Price or Crack Pipe is trading in Iron Chef for Fiberglass TVR. Hungry?