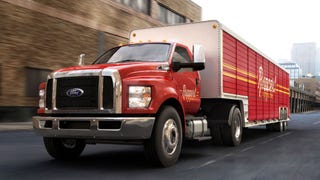 Ford just announced a new version of some of the vehicles that are most likely to affect our lives while being the least likely ones we'll get to drive: the medium duty commercial work trucks F-650 and F-750. Without them we'd drown in our own garbage while desperately wondering why there isn't any beer or Chex Mix to…
Chevrolet's media team will be thrilled when they see this photo of workers using a Ford SuperDuty to setup the Chevy Trucks display at the Texas State Fair. Although to be fair, at least it's not another recall notice. That would just be embarrassing.
What do you do when you realize your dirt bike racing son has forgotten his lucky scarf? Hop in your 1972 Ford truck and hit the racetrack to chase little Alfie down with no regard for his fellow racers, of course. This is exactly what the mother featured in this vintage Ford advertisement decided to do, resulting…
So you've got some John Wayne-talkin' cowboy mocking the Crazy Old Coot, and then there's some sort of bet involving jumping the Ford pickup over a 6-foot chasm. Then there's this Japanese biker, see, only he talks like Geetz Romo.
Ford has four special editions of its brand-new 2009 F-150 they're bringing out to Vegas for the 2008 SEMA show. First and foremost, the DeWalt Contractor Concept tacks on the expected exterior off-road upgrades but also adds thoughtful touches like a tool charger in the center console, storage under the rear seat and…
The 2009 Ford F-150 comes from people who are intensely aware of what a pickup truck should do, how it should perform and what the customer is after. With the latest iteration of the F-150, Ford has a considerable reputation to live up to and in the face of dwindling pickup sales, needs to make some big promises to…
We told you about the Cabela's Edition Super Duty and Harley-Davidson Super Duty pickups from Ford, and now we have official press shots straight out of Dearborn. The Cabela's special edition will feature two-tone paint, special running boards, mud flaps and the all-important Cabela's badge to prove you eat your road…
Ford has announced that the redesigned 2009 F-150 pickup will have best-in-class towing capacity of 11,300 pounds, up 300 pounds from the 2008 model, according to PickupTrucks.com. The weight rating is 500 pounds greater than that found on its nearest competitor, the Toyota Tundra, and marks an important competitive…
Ford's "Raptor", the road-ready yet also apparently ready-for-Baja racer version of the 2009 Ford F-150 has been spotted not utilizing its big ol' suspension and tires. Some are suggesting the truck's future may be in jeopardy, what with above-four-dollar gas and all. But it would be something of a shame if this never…
The first thought that comes to mind when taking a step back to look at the Geiger F650 is that this mechanical monstrosity is gonna be mighty thirsty for fuel. While it may not be powered by mere petrol, keep in mind that in most places diesel fuel actually costs more nowadays. Sure, you get over 737 lb-ft of torque…