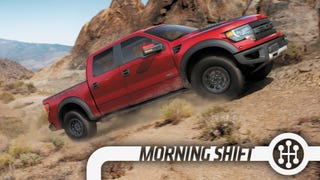 This is The Morning Shift, our one-stop daily roundup of all the auto news that's actually important — all in one place at 9:00 AM. Or, you could spend all day waiting for other sites to parse it out to you one story at a time. Isn't your time more important?
The Ford Raptor is a favorite around here. It looks like an R/C truck and has similar capabilities. It's also one of the best performance bargains out there…. but it has its limits.
Why would you take the Ford Raptor, the ultimate off-road desert-slaying dream machine, and turn it into a six-door limousine? Because United Arab Emirates.
The biggest complaint about the Ford SVT Raptor is the paltry 320 HP 5.4-liter V8. Ford rectifies that error today, announcing the new 6.2-liter V8 with 411HP and 434 ft-lb of torque as an upgrade option. Upgrade price? $3,000.
The Texas Auto Writers Association, made up mostly of people whose work you've never seen, has named the Ford F-150 Raptor SVT the "Truck of Texas." We question the decision makers but not the decision. Like Katemcy, the Raptor rocks.
Oh yeah, baby, it's on. Details on the expected off-road edition — the so-called "Ford F-150 Raptor" are beginning to leak out of Ford's dealer product preview currently underway in Las Vegas (that's gotta be a sober get together). Apparently the blue oval boys are pretty excited about the pending master of the…