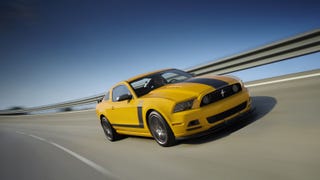 Of all the variants of the Ford Mustang, the Boss 302 is probably our favorite. It's lighter, it's faster, hell, it even looks better.
The Detroit Auto Show doesn't open for the press until Sunday but our own Ray Wert managed to pry himself away from his busy schedule of eating Greek salads at Leo's Coney Island to snag these first photos of the Mustang Boss 302 in its new "Gotta Have It Green" paint job. Sometimes it is easy being green.
Writer Shane McGlaun never expected his decision to buy a 2012 Ford Mustang Boss 302 to turn into the story of a guy winning a lottery, for better and worse. — Ed.
Ford's not yet released official production numbers for the new Mustang Boss 302. However, Borders, the bookstore chain, has posted a listing of a new book which might have accidentally slipped the size of Ford's new Boss-man.
The Mustang Boss 302 and Boss 302 Laguna Seca are the latest track-time toys in Ford's lineup and they've showed up to play at the Woodward Dream Cruise. Check out that rear-seat-delete option on the Laguna Seca. Sexy.
Australians think Ford is secretly telling them a supercharged 5.0 V8 is both awesome and headed their way. [GoAuto]