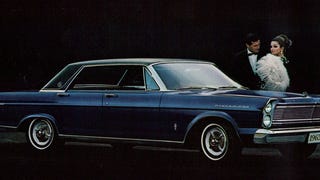 "Panty cloth." That's what they called the seat material in the Ford LTD. Debuting in 1965, it was little more than a re-trimmed Ford Galaxie, but it was a huge success. It sparked the Great Brougham Epoch that lasted for over a decade.
Back in 1973, a brand-new XJ6 listed at about $9,500. For that price you got 150 horsepower, four-wheel disc brakes, Lucas Electrics, and plenty of sophistication. For less than half that price, you could have a 154-horse LTD Brougham!
Want to help raise drug addition awareness? Want a 1972 Ford LTD convertible? Want to buy a car previously owned by someone once considered an "international sex symbol?" We have exactly the car for you.
We were all quite sad when we learned that the Cermak Plaza Shopping Center overlords had decided to remove the legendary Berwyn Car Spindle from their property. But now the Berwyn Spindle may be relocated... to your front yard! Yes, it's up for sale on eBay, with a starting bid of $50,000 (and a shipping cost of…