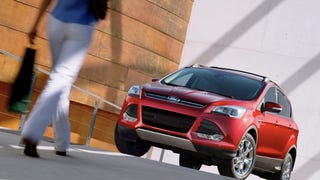 All those years spent pining for the Euro-only Ford Kuga crossover were not in vain for Ford has finely deigned us worthy with the Kuga-twin 2013 Ford Escape. Now we suddenly realize we never really wanted a crossover in the first place. Oh well. Our moms will buy them!
If you happen to live in a part of the world where buying a Ford Kuga is an option, you're about to get the choice of better fuel economy speeding towards a stop light or a speedier sprint going away from one. The latest Kuga includes the option of stripping out the all wheel drive for a front-wheel-drive powertrain…
Ford's just released two press releases detailing an OMFG $8.7 billion net loss for the second quarter of 2008 (which includes a pre-tax special charge of $8 billion, $5.3 billion of which is for Ford North America). But more importantly to the enthusiast is news they'll be bringing to North America six European…
Nary a week goes by where we aren't forced to look at another affordable, crisp-handling, attractive and unattainable European Ford Focus or derivative and recite that all too familiar prayer of "Ford, if you're listening, bring it over here" while trying to get excited about Bill Gates' Focus Coupe. Sure, we could…
The full production photos and details of the new Ford Kuga are finally here and it's still an attractive, capable looking C1-based AWD crossover that we'll probably never get. Would anyone here even be interested in the 2.0-liter Duratorq TDCi engine or standard six-speed manual transmission? We didn't think so. In…
The production model of the Ford Kuga ends up looking strikingly similar to the version we showed you at Frankfurt. The sporty crossover is yet another take on the "kinetic design" from Ford Europe that we continue to lust after and will feature the 2.0-liter Duratorq TDCi diesel engine.
First there was the Ford Verve and now the boys n' girls from Ford have unveiled the Ford Kuga — the new crossover inspired by the Ford Iosis X concept car revealed at the Paris Auto Show last year. Powered by a 2.0-liter 136 PS Duratorq TDCi diesel engine it...umm...hmm...yeah, you guys have already seen this.…
We're sitting up here in the very posh Ford Europe VIP suite above the reveals which are coming mere moments. Stay tuned for all the updates coming in just moments at our Frankfurt Auto Show tag as Ford reveals the Verve and Kuga. That's the Kuga above and the Verve all cloaked up is below the jump.
Here's the first details and non-sketch shots of the new Ford Kuga crossover — which we already told you we'd be seeing first hand at the Frankfurt Auto Show next week. The people carrier inspired by the Iosis-X Concept revealed last year at the Paris Auto Show will hit the streets officially in early 2008. The Kuga…