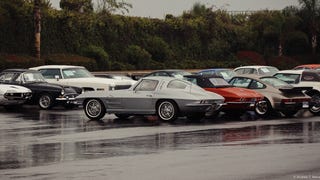 Southern California finally got some rain this past weekend and while it limited the amount of time I was able to spend outside photographing cars, I have to say I was pleasantly surprised with what I was able to get. It was one of those times when I really wish I had a good friend to hold an umbrella over me, or at…
Regrettably, Andy Griffith passed to the great beyond Tuesday. At 86, he could tally a successful life as one of Hollywood's quintessential nice guy actors and North Carolina's favorite mascot.
The fact this 1969 Ford Galaxie wagon is a two owner original that is still wearing the original coat of "New Lime" paint it left the factory with is enough to make it a somewhat rare survivor. Although this Galaxies original condition makes the car interesting, what lies beneath the hood makes it even cooler for the…
With glorious Moon rockets turning into low Earth orbit space trucks turning into one last trail of ionized air, what is there to say about the US manned space program other than Astronaut Suicides, a photographic series by Sara Phillips, Neil Dacosta and Saskia Thomson. In images which alternate between terrible…
1965, NASCAR, Ford Galaxie. After seeing this shot of John Holman and Carroll Shelby, reader John S. sent us this picture of his grandfather Jack working for Holman Moody. Your grandfather was probably not this cool. (Photo: John S.)
Welcome to Down On The Street, where we admire old vehicles found parked on the streets of the Island That Rust Forgot: Alameda, California. We've seen another nice Galaxie 500 in this series, but that was a hardtop. Convertible time!