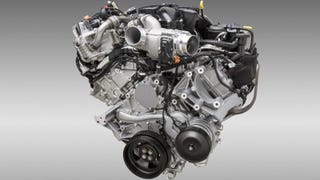 Ford has announced the 6.7 Power Stroke diesel in 2016 F-650 and F-750 will be available in three power levels, starting with the highest standard output in class. As the only commercial truck company building engines and bodies, Ford thinks they'll be able to deliver a more seamless package than anybody.
Ford is moving production of its F-65o and F-750 commercial trucks from Mexico to the United States when production commences on the bodystyle, slated for early 2015. Truck yeah, 'Murica!
The Frictionator Ford F650 has a General Electric J85 Jet Engine in the bed and is the "world's fastest street legal jet truck" though we're sure kicking on the afterburner invalidates that claim. One more check-body-cant-cash jet truck photo below.
Dunkel Industries' Luxury 4x4, built on a Ford F-650/F-750 chassis, measures an astonishing 32 feet long! It's designed to transport the space shuttle to the launch pad, tow battleships into dry dock and house a family of nine. [Pickuptrucks.com]
The first thought that comes to mind when taking a step back to look at the Geiger F650 is that this mechanical monstrosity is gonna be mighty thirsty for fuel. While it may not be powered by mere petrol, keep in mind that in most places diesel fuel actually costs more nowadays. Sure, you get over 737 lb-ft of torque…