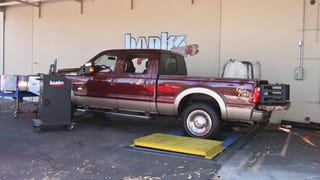 A bear cub in Anchorage, Alaska managed to get trapped in a salmon net and couldn't get out. Seeing the trouble a local hopped into his Ford Super Duty to help the distraught momma bear get him free.
The 2011 Ford Super Duty's a gamble. Ford's newest heavy hauler abandons the well-known Navistar-supplied Powerstroke diesel for a brand new all-Ford designed powerplant supposedly delivering monstrous power, squeaky-clean emissions, better fuel economy and the same price. Seems suspiciously impressive.
With metallic body accents, leather-trimmed seats and Paldeo wood applique, you could call the 2009 Ford Super Duty Cabela's Edition a fashionable truck — but since it comes with two built-in gun lockers, we won't.