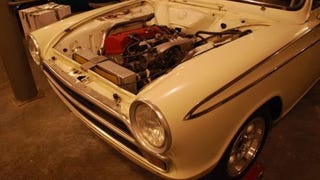 Well, you need a few things in addition to that Honda F20C to get that Cortina set up properly. A full roll cage helps, as does a completely hot-rodded suspension. Welcome to Jeff's Garage!
British printmaker Surface View is offering up giant prints of the artful and technical Haynes Manual drawings for purchase. Wouldn't you love a wall-sized yellow Mini for your wall?
1968 Ford Cortina GT, 1600cc crossflow with Weber carbs. Excellent interior with high-top dash. All electrics work. Lowered 2-3 inches, very good condition. It's in Seattle and sadly we are not.