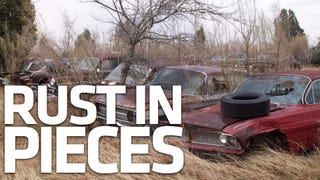 After reading about the 1,000-car rattlesnake-infested junkyard in Texas last week, a Jalopnik reader decided to survey the scene. Google's satellites were right: What Detroit makes, the earth takes. Here's a look inside a huge rotting classic car graveyard.
Because if you had eleven SR-71 Blackbirds, you'd arrange 'em all pretty and take a nice picture, too. And then you'd go hauling off into the sky like a supersonic, globetrotting bat out of hell. Technology rocks. [Lockheed Martin/Flickr]
This may not be a real Ferrari, but no matter — it's still one of the most gorgeous things we've ever seen. Pontoon-fendered 250 Testarossa body, you had us at hello.
Anyone who refers to himself as the Grand Poobah of Luxemburg and is also one of our Flickr contacts deserves a huzzah. It appears he is governing his tiny European country from UK dragstrips and car shows. [ The Grand Poobah of Luxemburg via Jalopnik Flickr contacts]
Our Flickr buddy Djivy, a photog par excellence, took some clutch shots of American muscle cars last weekend. Problem is, as a poor peasant boy from Belgium whose existance relies solely on huge waffles and pints of H egaarten, he needs help identifying the cars he shot. Won't you please donate some of your valuable…
Okay, so the automakers are often late to the trends, but GM has hopped on the flickr bandwagon, posting all manner of photography, including a gang of Camaros at the GM Tech Center. So far, though, there's been no Ham Center photography that we're aware of. So, Detroit Metroite GM fans, get out there and shoot your…
Notwithstanding the desires of rusty-car fetishists, whose off-hours habits we don't want to even want to think about thank you, rusty-car galleries are kind of a hoot. They're like short historical tragedies, whose narratives are internal and often evident only to the viewer. This one, on Flickr, is more than 1,000…