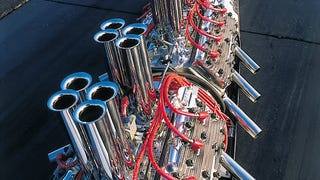 Flathead Jack's twin-engined vintage dragster goes 170 mph, but the 16 chromed injector stacks make it look like it'll at least break the sound barrier. [Rod & Custom via Automotives]
Welcome to Project Car Hell, where you choose your eternity by selecting the project that's the coolest... and the most hellish! You know what's missing from your grim, purposeless life? Straight Eight power!
How long does an engine family need to survive in front-line use to become a legend? 42 years, like the Toyota R? 47, as with the small-block Chevy? Today's engine may have them both beat!
When it comes to sexy engine parts, water pumps are pretty far down the list, hanging out with the motor mounts and wiring harnesses. So what do you do if if you're an eBay merchant selling water pumps for 1937-1942 Ford flatheads? How do you draw attention to your product over all the other 1937-1942 Ford flathead…
We were all set to go over to Europe for today's engine, because the last couple have been American... but then Teargas let us know about the video after the jump, and it was impossible not to go with the Packard flathead inline eight-cylinder engine. To see what we mean, turn your speakers up as high as they'll go…
Since yesterday's Workhorse Engine of the Day, the Toyota R, inspired our readership to make so many good suggestions, we feel compelled to continue the series with today's engine. Suggested by commenter Joe_Bloe, the Flathead was built in the United States from 1932 through 1953 and beyond that in other nations,…
We have an argument with the significant other. While we agree on the greatness of Californiana and think that genuine California writing is dismissed and underserved despite the fact that the majority of the way the world views the United States is often filtered through the poppy-littered, mountains-to-the-sea,…
So a coupla flathead fans iin Saginaw, MI have decided that the time is right for new Ford Flattie block castings. And well, y'know, it probably is, since the flatmotor's popularity has soared in hot rod circles over the last decade. The last big flathead news (besides Ron Main's 300mph Flatfire lakester) was the…