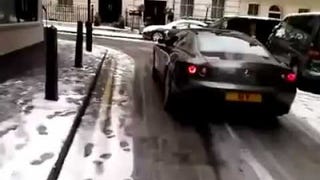 Only the rich can buy new Ferraris, but anyone can help push one. A passing Londoner saw a 612 Scaglietti spinning its wheels in last December's snow and has now decided to tell the world about his Tom Sawyer-esque experience.
Ferrari's upcoming 612 replacement debuts Friday, and designer Jon Sibal assembled this rendering of the new supercar (hit his site for a high-res version). Is it really a shooting brake? A source who's seen it tells Jalopnik yes.
Select members of the Ferrari faithful will get an early preview of the new 612-replacing Ferrari GT flagship on Friday. Will the new 612 offer a hatchback, AWD, or another surprise?
First we told you about the new top-of-the-line Ferrari expected to be unveiled in March; now a Ferrari enthusiast has snapped these photos of a heavily disguised model out testing near Maranello. Don't worry — it's not really a hatchback.
A Ferrari 612 sitting at a Seattle, WA dealership hoping to make someone very happy this holiday season. Photo Credit: Jeff Wilcox @ Flickr
The 1000th Ferrari to be delivered to Hong Kong was presented to its owner on a faux Chinese junk ship. The Ferrari 612 Scaglietti was delivered via Victoria Harbor to owner Didier Li.
Driving across all of India would be a challenging adventure in any vehicle, but as our friends at Car and Driver found out, being tasked with doing it in a Ferrari is a completely different proposition. They were among the few selected to drive a pair of Ferrari 612 Scagliettis around the sub-continent for a 524-mile…
What do you do with your Ferrari 612 Scaglietti after you've just beat it to crap toured around India in a 72 day, 7,000 mile jaunt? Well if you're Ferrari, you dump it to suckers on Ebay. The promotional trip known as the Magical Mystery Tour Magic India Discovery Tour was a journey around the sub-continent to…
The 612 is the prancing horse's strong, silent type; it's about as edgy as a long weekend in the South of France, and just as pricey. That's been the extent of criticism leveled at Ferrari's luxurious tourer. With the 2009 edition, the company left most aspects of the 612 alone, but added a couple of quick updates.…