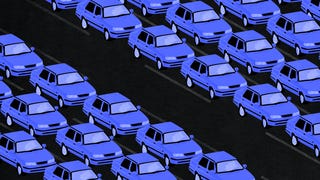 If you're going to drive, you have to follow the rules, and most of us are familiar with the basics. However, there are a handful of lesser-known road rules. Maybe you learned them in driver's ed, but forgot them, because they're not as important as, say, stopping at a red light. Still, they'll help you navigate…
Flying from LA to San Francisco on business is a task normally fraught with stress and rage. But today, my journey begins from a better place. Instead of the gargantuan mess that is LAX, my Uber rolls up to a tiny airport three miles to the east. I start to realize just how different my work commute will be today.
We've been hearing absurd claims from automotive inventors for years — cars that run on water, blinker fluid that won't burn your hands, soups that eat like meals — but the claim of incredible gas mileage from a big engine is one of the most common. Doug Pelmear claims to have a V8 engine that makes 110 MPG. It sounds…
People are more interesting than cars. It's a basic premise that guides a lot of our coverage and differentiates us from other publications. A Shelby GT40 is a beautiful piece of machinery, but it's so much better if you know who Carroll Shelby and Dan Gurney are. A Lamborghini is a way for some to show off, but it's…
A Texas race team has sued General Motors for antitrust violations, saying it conspired with tire maker Michelin to hobble a private competitor to GM's factory-owned Corvettes in American and international road racing.