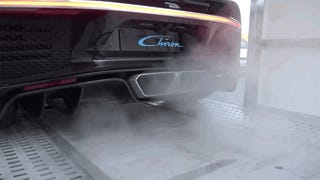 Oh, the Bugatti Chiron. Six titanium exhaust pipes getting rid of whatever that two-stage quad-turbo eight-liter engine is spewing out of its 16 cylinders, and a double exhaust tip that does absolutely nothing. Form just doesn't seem to follow function at the rear anymore.
From the Lexus LFA to the BMW i8 and now to the refreshed Porsche 911, it seems as if all sports car manufacturers feel the need to manipulate the sound that their engines produce. So which carmaker does it best?
So here's a video of the next-generation Chevy Camaro testing on the Nürburgring and yes you can sort of see the Bumblebee-esque front and yes you can see it wiggle under power and whatever. The real story is that this thing sounds beastly.