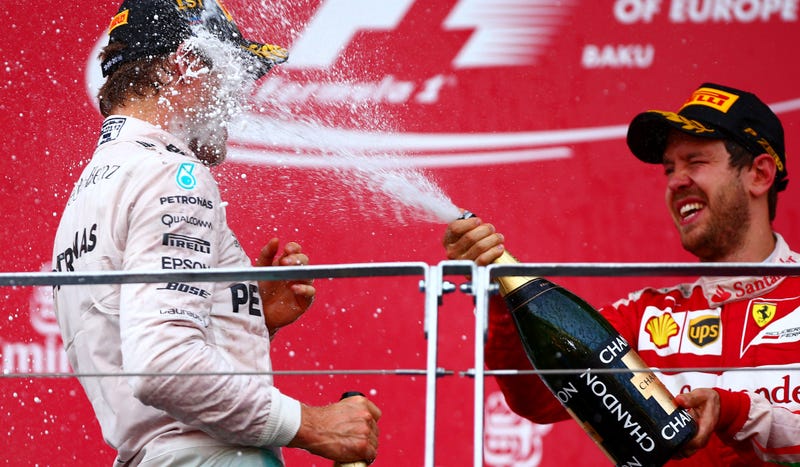 Just because you schedule a regular-season Formula One race over the end of Le Mans doesn't mean that F1 drivers aren't going to ask about the result. Fortunately, Ferrari driver and four-time world champion Sebastian Vettel thought to ask what happened to the Toyota Le Mans team in the middle of F1's post-race press…
We've said from day one that it's garbage that Formula One booked a regular-season race on Le Mans weekend in an oppressive dictatorship to prevent any series crossover, but we didn't expect to see Sebastian Vettel hitting actual garbage on the Baku City Circuit. Well done Baku, I guess.

In an incident Williams head of performance engineering Rob Smedley called "a shitty set of circumstances," Valtteri Bottas' Williams F1 car kicked up a drain cover at the new Baku track. The cover damaged Bottas' car during the final practice session for the race and sent debris flying towards nearby marshals.
Representatives from Sport for Rights held closed-door meetings with the FIA this week over Azerbaijan's numerous human rights issues ahead of its new Formula One European Grand Prix, reports Motor Sport. Additionally, the group is encouraging celebrity guests to withdraw from the race.
It would have taken Libyan technicals racing Wally powerboats at Monaco to top the previous race in excitement, and all that at Valencia, a track where overtaking is conspicuous by its absence. It wasn't the most exciting race, but it was an opportunity to study the finer points of Formula One often lost in the usual…