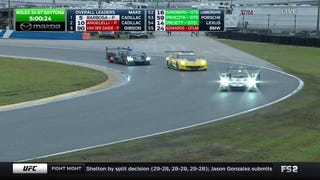 This isn't the first time a trackside ad has been hit by one of IMSA's low-slung racing prototypes and then refuses to let go. They're tenacious little things! It never ceases to be hilarious, either.
There were two things No. 8 Audi R18 driver Oliver Jarvis wasn't quite fond of in Mexico: the tequila, and the contact-prone nature of the Extreme Speed Motorsports LMP2 cars. We picked the brains of Jarvis and racing legend Allan McNish on who to watch during the 6 Hours of Circuit of the Americas, and here's what…
Two words could sum up the final moments of the 12 Hours of Sebring, but we'll pick a name instead: Pipo. Derani. All eyes were on Extreme Speed Motorsports' young star driver as he charged through to the lead and gave ESM a combined 36 Hours of Florida win for 2016—all with only 12 minutes left in the race.