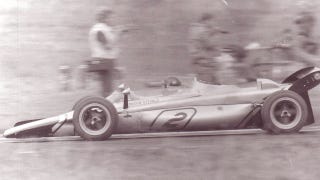 The early 1970s were quite possibly the craziest years in Formula One and not only because of the mammoth sideburns. These were years of wild experiments in fields as apart as aerodynamics and sponsorship structures, and they produced fascinating evolutionary dead-ends like the Lotus 56, a turbine-powered, four-wheel…
While famous auto racer Emerson Fittipaldi is well known for his accomplishments on the race track, his role in building a wild Volkswagen for a Brazilian endurance race is an interesting albeit lesser known tale. Jalopnik Brazil editor Leo Nishihata explains. — Ed.
To mark the 40th anniversary of his first victory in Formula 1, former champion Emerson Fittipaldi was turned loose on the closed streets of downtown São Paulo in the Lotus 72, hitting 155 mph. Coolness improves with age.
With Ferrari's plan for contributing to F1 rival, A1GP racing, in the open, the hits keep on coming. First, Scudaria Ferrari announced the racecar it'll provide will be similar to this season's F2007 car. Its latest media coup involves Brazilian racing legend Emerson Fittipaldi, who says he'll come out of retirement…