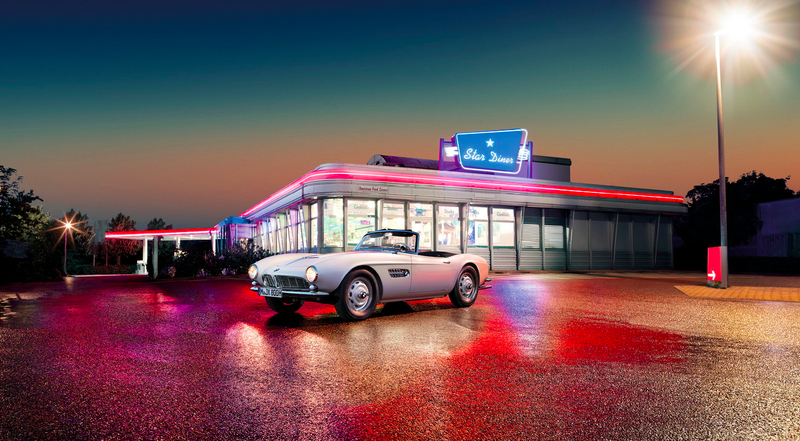 When he was stationed in Germany during his time in the U.S. Army, the King of Rock 'n' Roll bought a rare BMW 507 roadster. After bringing the car to the states, it got lost in the shuffle and wasn't rediscovered until 2006. Now, after decades of sun-fade and rust, the car has been restored back to its original…
Of course Elvis had a Pantera. Elvis.com.au says it he bought it in 1974 "for $2,400 as a gift to then-girlfriend Linda Thompson" and shot it with a gun when it wouldn't start. Today it lives in Los Angeles' Petersen Auto Museum and will be out on the streets at the Highway Earth car show.

Elvis Presley had a slew of cool (and also not-so-cool) cars, from scads of Cadillacs to the most famous of them all, the yellow DeTomaso Pantera he used for target practice. But he also had a taste for the obscure, and was actually the first owner of a Stutz Blackhawk.
The BMW 507 is an absolutely lovely car. They only made 254 of them, so it's rare as well. When you factor in a famous owner, things can get pretty nuts pretty quickly. Which is probably why BMW themselves will be restoring Elvis Presley's BMW 507.
Crawling around behind-the-curtains at The Petersen Automotive Museum in Los Angeles, one of the first cars I noticed was a bright yellow De Tomaso Pantera. But this wasn't any Italo-American exotic. It was Elvis Presley's Pantera and it has the bullet holes from The King's revolver to prove it. Here's how they got…
A new reality TV show featuring Elvis impersonators competing for a record deal (yep, the apocalypse is still on for next Tuesdayish). Don t Be Cruel pits velvet Elvises against one another for a performance contract at Las Vegas's Elvis-A-Rama and the opportunity to record an unreleased song co-written by the quickly…