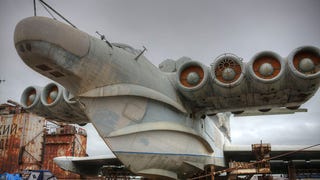 William Gibson's "Zero History" is a bridge between gearheads and sci-fi fans, offering both a glimpse into the other's world. From Ekranpolans to Hiluxes, here's a guide for both fans to the amazing vehicles in the final Bigend trilogy novel.
Is your yard cluttered with retired Boeing 727s? Do you dream of stylish sea travel capped with the potential for fiery death? The Hydro Lance Corporation has a solution to your problem: giant, untested pontoons!
Powered by 228,800 Lb-Ft of thrust, this Lun-class Ekranoplan was designed to carry two-million pounds of Europe-invading soldiers and vehicles and six nuclear missiles at speeds up to 340 MPH. Thank God Reagan defeated the Soviet Union.
Moonlighting in this clip for his Big Ideas program, Top Gear UK presenter James May got behind the wheel of a Soviet-era ekranoplan. Piloting the small example of our favorite non-wheeled mode of transportation over a frozen body of water, Captain Slow stayed true-to-form, only bringing the ekranoplan up to…
We have an occasional obsession with Soviet-era ekranoplans, the half-plane, half-hovercraft madness machines which take advantage of the ground effect, a phenomenon which provides for high lift at low altitudes. We've meandered across all manner of ekranoplan, from the massive Caspian Sea Monster to Luigi Colani's…
Yeah, yeah — you knew this was coming. But I think Jalopnik would have a real shot at winning. First of all, with Murilee and Bumbeck working the pits, you know our car would running like a Swiss clock. Sure, they may sneak a nitrous system into a fake battery, but so what? As for actually driving, I'm sure between…
Okay, so it's not a missle-launching Lun or a gigantonormous Caspian Sea Monster, but it is an ekranoplan none the less. What's more it's remarkably fuel-efficient, advertised as getting around 26 mpg of diesel. And, according to the Economist it's registered as a boat! It's the Sea Falcon, the perfect vehicle for our…
Just a friendly reminder. Nothing rocks your butt off like an ekranoplan. Nothing.
A high-performance turbine that powered the Tupolev Tu-95 Bear, the Tupolev Tu-114 airliner and the Antonov An-22 Anteus cargo lifter, the NK-12 was designed to run contra-rotating propellers and pumped out 14,800 seahorsepower. Now say, if Vladimir Putin were to bestow one of these fast-spinning behemoths upon you,…
We have to say, when it comes to Soviet military hardware, we've got what most would consider more than a passing familiarity, given our childhood obsession with books on WWII-present planes, boats, tanks and other various and sundry killng machines, not to mention a pubescent summer spent devouring the Tom Clancy…
The Russians are great at building fearsome, crazy things. Take, for example, the AH-64 Apache. It's not cute. It's certainly deadly. But is it nearly as scary as the Mil Hind? That thing was so nuttily freakish that under some circumstances it was in danger of falling out of the sky if it stopped moving! Or say, the…