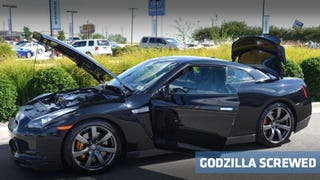 Enthusiast Xou Vang spent this last weekend bidding for a used Nissan GT-R on eBay and, at $55,100, thought he'd gotten a fair price for his dream car. The dealer, Honda of San Marcos, thought the deal was too fair and reportedly said they'd refuse their deal unless he coughed up a few grand more. UPDATE: The…
Today is National Collector Car Day and eBay Motors is celebrating by auctioning off a GM Futurliner. We worked with the company to assemble this list of the ten most expensive vintage cars ever sold on eBay. Bids start at $700K.
This UK eBay auction for a craptastic used 2005 Renault Clio has drawn more than 148,380 viewers and even has its own multi-thousand-fan Facebook page, yet the highest bid is less than $3,000. Why?
Daniel Sanchez, the buyer at the center of the Glenn Hyundai eBay debacle, told Jalopnik he's been contacted by Glenn Hyundai and told to remove all mention of his buying experience from "the internet" or face legal action.
A GenCoupe forum member's up-in-arms over a Hyundai Genesis Coupe he claims he won on eBay Motors from a Kentucky dealership. We spoke to the dealership. They claim the buyer is "a little psycho." Accusations are flying, but who's right?