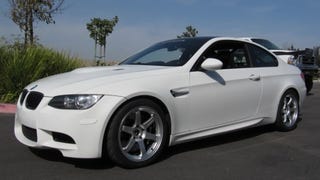 Paul "Fast and Furious" Walker isn't just seat decoration in a car-centric series of movies, he can actually drive. He's entered this year's Redline Time Attack race series with this — a stripped-to-the-bone, caged BMW M3.
We'd don't normally go in for tacky body kits, but this Vorsteiner GTRS3 for the BMW M3 actually managed to improve the boring stock car with its wide fender flares and vented hood. The matte green makes it so purposeful.
Attention, Herr Frog! We return to your land of speed und cheese without ze mighty prototype but with two M3s und ze British touring-car dynamo known as Andy "Hammer" Priaulx! Faszination: Ze Porsche is easy Le Mans for little girl!
Haury's Lake City Collision in Seattle, Washington is run by geniuses. What better way to attract customers to your business than by offering the greatest loaner car ever - a 2008 BMW M3. The ultimate M3 (well, at least until the BMW M3 CSL comes out) is available for rent while customers await the completion of their…
While the majority of us would be happy with a standard M3, Hamann's apparently not as satisfied as the German tuning shop has just revealed a couple of serious tuning packages for the V8-powered E92 BMW M3 Coupe. The two blend all sorts of fun performance upgrades with enough cosmetics to make Mary Kay blush. The…
We had so much fun reading your responses to yesterday's QOTD that we would be remiss not to offer a follow up. To wit: I have tried and I have tried but no matter how hard I stare I just cannot find a decent angle on the E92 3-Series. It's as if BMW took one of Chris Bangle's designs and tried to reform it into…
The forum folk are chattering away about the latest marketing breach — such that it is — of BMW's M3 launch. The brochure's out and it's been scanned and web'd. Check out designers' solution to the M3's massive air needs, including the rapacious front air dam and the hood's "Powerdome," denoting the outward blister…
The Bayerische tweakers at AC Schnitzer released pics of their new, twin-turbo BMW E92 3-Series coupe, ahead of its unveiling at the Essen show next month. A shot of the tuner 335i leaked out last week, sending those who fancy such beasts into a tailspin of anticipation. But the pics are just a tease; the company…
A photo of of tuning shop AC Schnitzer's latest BMW tweaker slammed into the internets today, offering a preview of the company's plans for the 335i turbo. There's no real info on the coming tuner, but we suspect it'll have the same suspension tweaks designed for the E90 (antiroll bar kit, plus stiffer strut brace for…