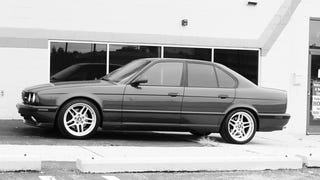 The seller of today's Nice Price or Crack Pipe M5 doesn't seem too eager to sell his emerald E34, and the litany of features/upgrades and mods could make you green with envy. But is its price just too much green?
Cracker Jack is a tasty treat that comes with a toy surprise inside the box. Today's Nice Price or Crack Pipe BMW E34 looks pretty tasty, and the surprise 6-speed inside makes it ready to play. Will its price however, make you think the seller is just toying with you?
The E34 M5 is a Q-ship, with basically only badging, valances and wheels to separate it visually from its less-M siblings. Today, Nice Price or Crack Pipe has found a clean '91 that's still running under the radar.
Even when it's not, it is still somehow BMW Week. The Postfather has deemed this weekend's question "brilliant," and I as his loyal, sniveling lackey concur. From the Jalopnik commenter who calls himself TeacherSnake:
We knew it going in: expecting any other M5 to compete against the BMW E39 M5 is like asking the Chicago Bears to cover a 12-point spread. No way in hell. But, you know, democracy and all that. Still, many of you expressed quite passionate opinions about the other big M cars. So we figured why not have a runoff for…
Last week saw the induction of the Mercedes-Benz 450 SEL 6.9 into our rapidly filling Fantasy Garage. While the detractors were loud and squawking, just over 83% of you saw the beauty of a bored-out German bullet train. However, Jalopnik is never one to let the tyranny of the majority drum out the feelings and…