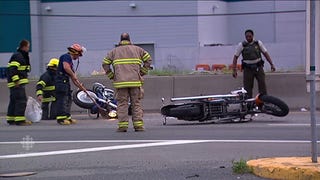 Emma Czornobaj has been sentenced to 90 days in jail, 240 hours of community service, and is banned from driving for a decade. When she had stopped her car on the highway to round up some ducks four years ago, a motorcycle carrying two passengers rammed into it at highway speed.
Despite news about police brutality and Jalopnik writers ending up in jail, not all cops are awful. In fact, some, like officer Bryan Rowe, seem pretty great, especially if you're a momma duck with a bunch of little ducklings, crossing a road to take them to duck school or something.
I hope someone called Duckling Protective Services, because this is really just terrible timing to take the kids out for a swim. She's probably Canadian.