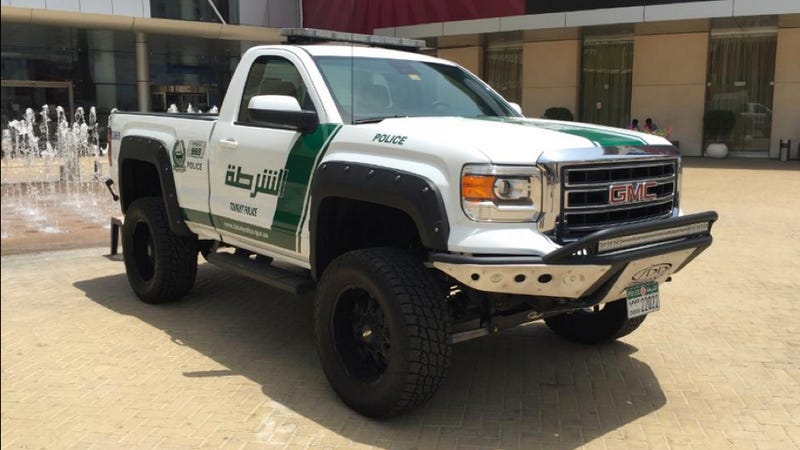 We already knew the Dubai Police were incapable of half-measures, so I guess it's no surprise their new utility vehicle has a fairly massive lift, desert prerunner bumper, and fender flares like Terry Crews' deltoids. What do you think of Dubai PD's 2015 GMC Sierra off-roader?
Dubai's Bugatti Veyron-driving police officer doesn't feel like a rockstar, but he really should because he drives a Veyron. And there's more.

The Bugatti Veyron, once the most expensive, fastest car in the world, is dolled up like a patrol car in Dubai. That's it. It's finally happened.
Ask any cop, any real cop: no police department is truly complete without a British mid-engined Ferrari-fighting supercar. Now, the Dubai Police, having done without this necessary crime fighting tool for so long, finally get their own.
Because the Dubai police are hell bent on amassing a supercar collection that makes even the wealthiest oil baron's garage look sad and pathetic, they've added a Mercedes G-Class to their fleet. But not just any G-Class: possibly the ultimate G-Class.
So far, our new weekly series called "what outrageously expensive police car did Dubai get this week" has seen both a Lamborghini Aventador and a Ferrari FF added to the fleet. Well, this week it looks like Dubai is adding two more supercars. Why? Why not.