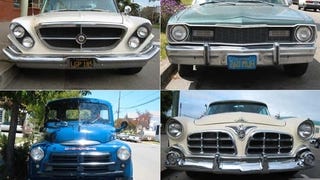 After the '73 Challenger and '51 Dodge we saw this weekend, now seems like the right time to honor the Chrysler, Dodge, and Plymouth vehicles I've photographed down on the Alameda street.
The Down On The Street series has been around for a couple years now, and we've seen a good sampling of big ol' Detroit luxury dreadnaughts down on the Alameda street during that time.
We're actually up to 482 Alameda street-parked classics in this series, but I'm still working on chronicling the 450-machine milestone. The Server Hamsters resist in all their maddened rodential fury, but we press on!
The Hamsters are resisting our efforts to continue the 450 DOTS commemoration, but we've finally got Round Two ready for your enjoyment. Here are the German cars that roam the Island That Rust Forgot.
We've hit another milestone, with 450 interesting street-parked vehicles in the Down On The Street series. That means it's time to have our customary DOTS roundup, but we're doing it a bit differently this time.