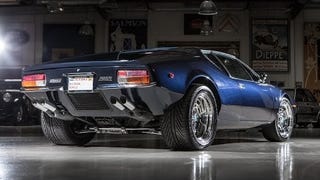 Jay Leno calls the De Tomaso Pantera "one of the most misunderstood and undervalued" cars of the 1970s. I think he's right.
If you want to trap a wild Jason — perhaps for the meat or luxurious pelt — a great way to do so is to tell one he can drive something interesting. That's what happened with this customized Pantera. It's an old car, given new life with some help from Nike's skunkworks design team.
The DeTomaso Pantera was a simple premise - Italian midengine supercar design with a powertrain that can be serviced at a Ford dealer. But what was it like to drive?
Crawling around behind-the-curtains at The Petersen Automotive Museum in Los Angeles, one of the first cars I noticed was a bright yellow De Tomaso Pantera. But this wasn't any Italo-American exotic. It was Elvis Presley's Pantera and it has the bullet holes from The King's revolver to prove it. Here's how they got…
Our money's on the Testarossa over the non-Dimebag Darrell Pantera. Anyone know how this tête-à-tête at the Targa Tasmania eventually turned out? [Aussie Exotics via PhatDishLibrary]
When you've got a few hours to kill before catching your flight out of Charlotte, North Carolina, what do you do? Pound Retsina-and-Schlitz Boilermakers at the airport bar… or check out Holman Moody's shop?
The Pebble Beach Concours is always a spectacle of the well-heeled celebrating the well-known in the fancy-pants car show circuit. To go along with the car show wine is the cheese, also known as the Monterey Auctions, put on every year by the house of RM Auctions. There are always hit lists of the most desirable and…