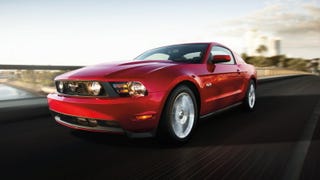 Upscale versions of the Jeep Wrangler now eschew the bare plastic trim for painted wheel arches and roofs. But one owner, after taking his 2012 Jeep Wrangler Sahara home, noticed that the wheel arches on one side weren't color-matched. In fact, they were the wheel arches from the 2011 model year Wrangler.
There's no equivalent in China to America's array of lemon laws, forcing owners of massively defective new vehicles to exorcise their demons in other ways, whether it's sledgehammers or dragging a broken Volvo through the streets with an ox.
The 2011 Ford Mustang debuted last year to glowing reviews, strong sales and swaddled in American pride. But over the past several months, hundreds of owners have complained of broken Chinese-built manual transmissions — a problem Ford has yet to rectify.
Lee Adams of central Florida owns 14 high-end sports cars, including a Ferrari, Mosler, Ariel Atom and a Corvette ZR1. Or he used to own a ZR1, until he had to call 911 after getting locked inside.
NHTSA opens probe after 32 complaints of fuel tank straps failing on F-150 pickups from 1997-2001. [NHTSA]
One Mitsubishi Lancer Evolution owner was understandably surprised when the gas pedal on his nearly new $40,000 car snapped off right under his foot. With just 2000 miles on the clock of his Evo X, the owner claims he was driving "with a little enthusiasm," pressed down on the gas pedal "as I normally would", at which…