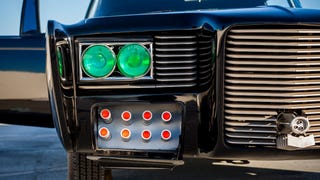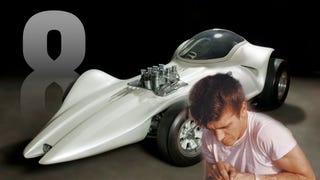 As you likely know, famous auto customizer Dean Jeffries died this weekend. While many of the cars and techniques Jeffries created are well known, Jeffries himself was a bit more reserved about his own accomplishments than certain contemporaries of his, and as a result, probably isn't as well known as he deserves.…
With yesterday's unexpected death of the Monkees' onetime-hearthrob Davy Jones, there has naturally been a resurgence of interest in the amazing, funhouse-mirror version of the Pontiac GTO that was the Monkeemobile.
I've been letting the titles stack up in the Jalopnik Book Review On-Deck Circle- including a really intimidating 75-pound slab of onanic Porschism- so let's get back into this book-review thing with a fun one!
As a child, we loved two things: musclecars (especially GTOs and B-Body Mopars) and the Monkees. In fact, the first rock show we ever saw was the non-Nesmith reunion lineup on tour with "Weird Al" Yankovic in the summer of 1987. Lack of Mr. Woolhat not withstanding (we're still big Mike Nesmith fans, by the way), the…

Back when Norm Grabowski built the "Kookie Kar" he didn't know what he was doing, so he just told people what he wanted (including a Dean Jeffries flame job). Since then his mechanical skills (and his resum ) have increased considerably. The car was good for Norm, and even better for hot rodding. Today, Norm lives…
Dean Jeffries' Mantaray is a car that's been in our consciousness as long as we can remember, although we never knew some of the facts behind it until just now. Built from a couple of Maserati Grand Prix chassis of 1950s vintage, the Mantaray sports a healthy small-block Ford with Weber carbs, given to Jeffries by…