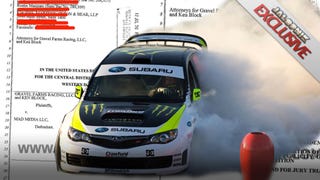 When you think Gymkhana you think Ken Block. Other people may do variations, and there's that horse thing, but Ken Block = Gymkhana and his videos, which have been viewed more than 160 million times on YouTube, are the public face of the sport. Therefore you might be surprised to discover Block doesn't own Gymkhana.com
Was 2010 driver/shoe mogul/flatbill hat model Ken Block's best year ever, or was it all just one massive fail? On the one hand, Gymkhana 3 saw him drifting up a wall and racking up a gazillion YouTube viewers. On the other hand, he crashed more than Charlie Sheen and lost his own Gymkhana race... to Tanner Foust.
Ken Block's Ford Fiesta made its competition debut this weekend at Michigan's Sno*Drift Rally. Block retired early with suspension problems, but his car lived long enough to give the world some wicked video. Special-stage snow hoonage and gallery action below.
What do you get when you combine one Rally America star, one factory WRC driver, and one of the coolest two-wheel-drive rally cars ever built? A bunch of grown men giggling, that's what. Strap in, kiddies.
Being a discerning car enthusiast, you've seen this infamous Ken Block Gymkhana clip a million times. Today we bring you the crashes, outtakes and foibles that went into it's production. Enjoy the infectiously addictive soundtrack!