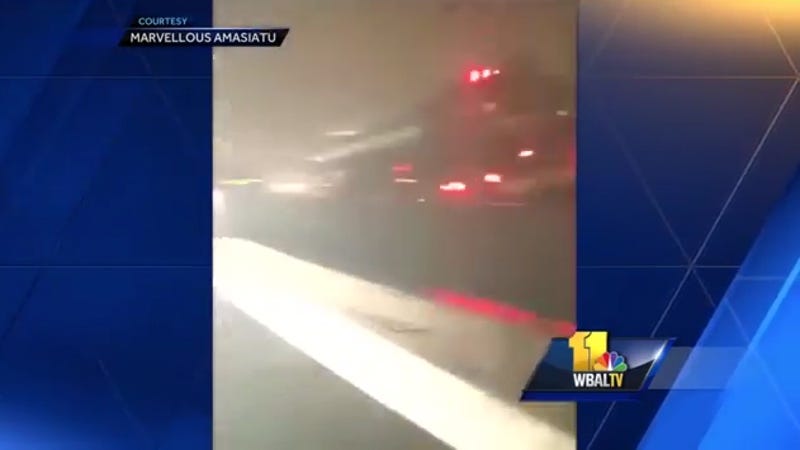 Icy conditions and freezing rain hit the East Coast hard overnight. Slick roads reportedly caused over 50 traffic accidents in Virginia and the Baltimore/D.C. area was hit particularly hard. In one horrifying incident, a tanker truck overturned and exploded on I-95. A 15-car pileup occurred minutes later.

A picture cropped up on Twitter showing what at first appears to be just another Honda Civic driving for Lyft—until you notice it has Congressional license plates.

Last year was the first year since 2009 that I didn't attend the Washington Auto Show; ironic because I skipped it to go out and actually buy a new car (the most valid reason you could give, if you ask me). Needless to say, even though I was content to fall absent last year given my reason, I was excited to explore…
Batman's vehicle of choice has had a lot of different looks over the 75 years it's been around—but an ongoing legal case over unlicensed replicas based on the 1966 and 1989 versions of the Batmobile called into question whether DC had the right to copyright the car. Turns out, despite the myriad redesigns, they do.
Batman's chosen mode of transport has evolved a lot over the years. From swanky car to Tumbler, and even armored tanks. But with a new, heavily armored Batman in town in DC's Batman comics, there needs to be a new Batmobile to match—and it looks completely, hilariously over the top. Bat-Truck, indeed.
I debated not going to Katie's this morning since the turnout has dwindled due to the cold weather, however I knew Volkswagen HQ had both a Veyron and an XL1 on hand this week. I decided to come on the chance an XL1 did appear, despite my being told that it almost certainly would not come. Much to my delight, VW DID…
We're no strangers to motor vehicle departments restricting certain words from personalized license plates. Typically, genitalia, other sex themes, and things related to fecal matter and racism (same thing, really) are verboten. But what about words like PITA, SCOTCH, and RAIN?
If you haven't heard, Old Man Winter smacked the East Coast this weekend. Washington, D.C. was hit hard, with authorities declaring a state of emergency and urging people not to drive. What was it like 90 years ago?
Being a discerning car enthusiast, you've seen this infamous Ken Block Gymkhana clip a million times. Today we bring you the crashes, outtakes and foibles that went into it's production. Enjoy the infectiously addictive soundtrack!
Wow. It's only taken a couple decades for someone to make a dual-purpose charger—yes, a charger capable of 12V DC and AC charging. This 2-in-1 from Incase is designed for the iPod or iPhone and can easily plug into a 12V DC outlet for charging your gadgets on the road, but it can also be taken in and used in a…
Yeah, we know this happened at the beginning of this year, but we're only now hearing about dis here tightness. Apparently, just in time for the 2006 DC Auto Show back in January, the DC-area customizers at Automotive Rhythms "flipped" D.C. Mayor Anthony Williams' new whip, an '06 Caddy STS. Now, while most mayors we…