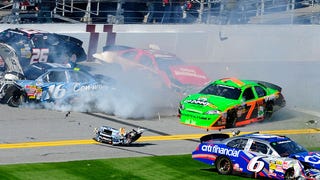 Danica Patrick crashed in a 12-car pileup in her over-hyped NASCAR debut at today's Nationwide race in Daytona. We may be done with Danica, but that doesn't mean NASCAR is. The hype goes on for the next two Nationwide races.
This Vanity Fair cartoon, along with this TV spot, did it. Nothing against her personally (and the VF interview is actually pretty funny), but we're pretty much done. Tell NASCAR we said hi. [Vanity Fair]
Danica Patrick's getting an assumed three-year deal with Andretti Racing to stay in IRL. Thank God. Now we don't have to hear annoying rumors about her considering a move to NASCAR or F1 during every off-season contract negotiation.
Fan-favorite IRL driver and sweetheart, Danica Patrick was captured this month promoting healthy, strong bones in her new Got Milk? ad campaign that'll get the boys running to the local Circle K.
Danica Patrick is no stranger to the front cover of magazines, having spent some time with Sports Illustrated photographers. However, this time it's for SHAPE Magazine. Semi-work safe Danica+bikini+pool photo shoot within.
We all know what Pedro de la Rosa thinks about women in motorsport. Now, we've got CBS Sports' Gregg Doyel weighing in on Danica Patrick's win, proclaiming the Indy Racing League to be an inferior racing series. Most people will agree the IRL isn't the highest pinnacle of motorsports, but Doyel thinks
With all the buzz over Danica Patrick wiping the floor at Twin Ring Motegi in Japan last weekend, it's easy to forget there's other talented females engaged in various forms of motorsport across the world. Just look at Michèle Mouton's rally career — multiple wins in her Audi Quattro and finishing a close second place…