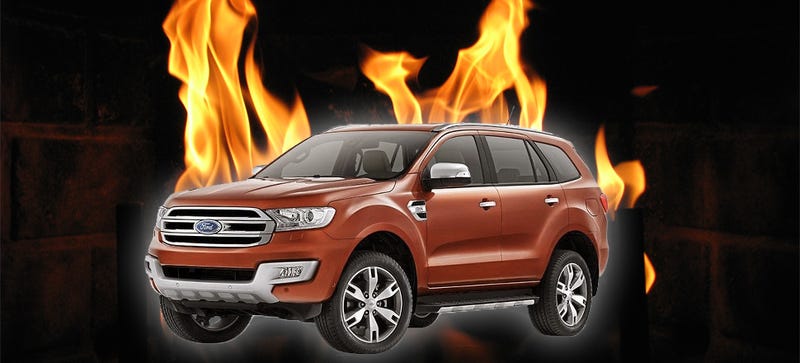 News Corp Australia's auto writer Peter Barnwell was test-driving a 2015 Ford Everest SUV the other day when it suddenly erupted into flames. Good thing Mt. Everest isn't a volcano or we'd have a weak pun on our hands.
In light of recent attempts to make F1 more exciting again, some have called for a return to the high stakes, womanizing days of yore, where F1 didn't apologize for what it was and a simple off would certainly end your race. Here's why Hooniverse's Patrick Hoffstetter doesn't think that's the answer to F1's woes.

Our pals over at Car and Driver have their equivalent of Parking Lot Mechanic, called Saturday Mechanic, and this is a clip from one of their recent episodes starring former Jalopnik writer Ben Wojdyla almost being murdered by a car that doesn't have a J-gate.
The tricycle is not commonly associated with instability and safety hazards. But according to an old article from the Milwaukee Journal, the Tricycle of yore was a blood and tears factory for the youth of America.
Those fancy tea-drinkers from across the pond are all up in arms over a man who was photographed mooning a speed camera. The man drops his trousers and bares his ass for a speed camera on the A1171 Dudley Lane in Cramlington. The police aren't too happy about the matter (honestly, who would be? ass lovers?) because…